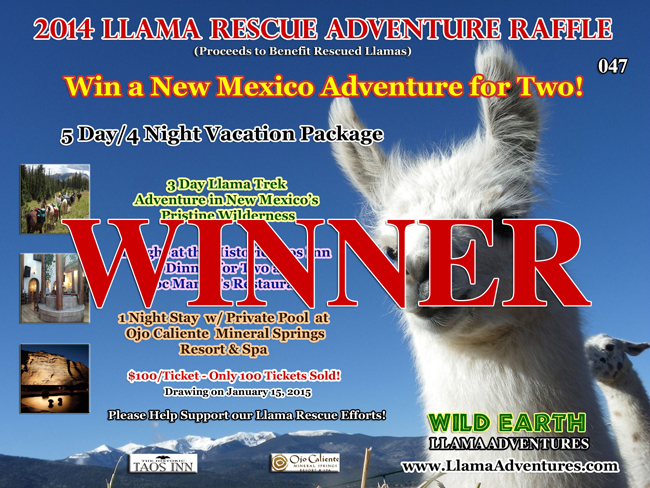 5th Annual Llama Rescue Adventure Raffle
The Drawing for our 2014 Llama Rescue Adventure Raffle was held on January 15, 2015.
The Winning Raffle Ticket is Number 047!
Congratulations to Emory and Samantha from Austin Texas!
You are the winner of a 5 day/4 Night Taos Adventure Vacation for Two, featuring:
• 3 Day Llama Trekking Adventure into New Mexico's Pristine Wilderness
• 1 Night Stay at the Historic Taos Inn with Dinner at Doc Martin's Restaurant
• 1 Night Stay at Ojo Caliente Mineral Springs Resort & Spa with a Private Hot Springs Pool
All proceeds of our Annual Adventure Raffle will go directly toward the feeding, care and maintenance of our herd of more than 30 rescued llamas, from abandoned, unwanted, neglected, and often abused situations. If you would like to support our ongoing Llama Rescue efforts, please visit our Llama Rescue Page.
Thanks for your support in helping provide homes, feed and care for for the abandoned, unwanted llamas that we rescue from all over the Southwest.