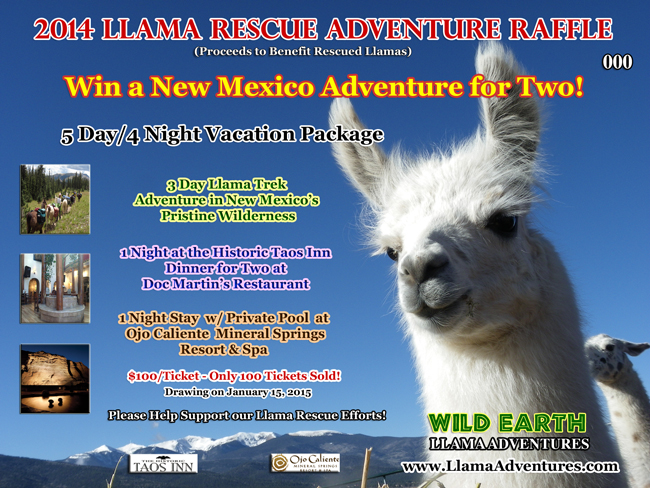 Help support our ongoing Llama Rescue efforts, and enter our 5th Annual Llama Rescue Adventure Raffle to win a 5 day/4 Night Taos Adventure Vacation for Two, featuring:
• 3 Day Llama Trekking Adventure into New Mexico's Pristine Wilderness
• 1 Night Stay at the Historic Taos Inn with Dinner at Doc Martin's Restaurant
• 1 Night Stay at Ojo Caliente Mineral Springs Resort & Spa with a Private Hot Springs Pool
Your donation of $100 will enter you in our Annual Adventure Raffle, and will go directly toward the feeding, care and maintenance of our herd of more than 30 rescued llamas from abandoned, unwanted, neglected, and often abused situations. See our Llama Rescue page, to learn more about our rescue efforts.
We are only offering 100 raffle tickets, so the odds of winning are great, and more importantly, you will be helping us provide homes and care for these magnificent animals.
These Raffle Tickets make a great last minute stocking stuffer for yourself, family or friends. Once you make your donation, we will email you a hi resolution Raffle Ticket for your records, and for you to print as a gift for friends and family.
The Drawing will be held on January 15, 2015, so get your tickets now! We'll notify the winner and all entries by email, on January 16, 2015.
Click on the Donate Button below to make your Donation, and Enter our Adventure Raffle.
Thank you for helping support our llama rescue efforts this Holiday Season!